Absorption of Industrial Exhaust Gases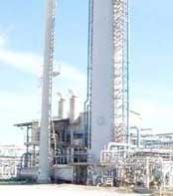 We offer turnkey solutions for absorption of exhaust gases after carrying out detail onsite studies. Our focus is to satisfy the environmental pollution requirement and also try to recover the exhaust gases in such forms so that they can be reused for various processes thus adding to the bottom line.

Both Adiabatic absorption and Isothermal Absorption processes are employed in order to get the most efficient output.

Please contact us for further discussions if you need us to study your plant.
Read More...
Looking for "
Absorption of Industrial Exhaust Gases

" ?